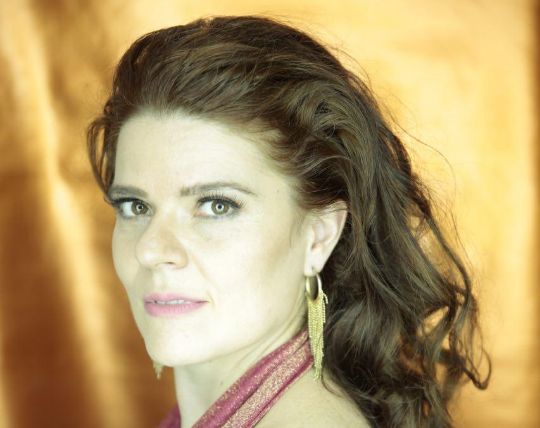 Tati Helene

Soprano
"...dominated the stage with great magnetism. The solidity of her stage interpretation and the quality of her vocal performance resulted in the most rewarding work that could be observed in this 'Flying Dutchman.' (...) She delivered an impeccable performance, bringing to life a child/woman who matures in a matter of minutes, expressing anguish, compassion, rapture, and an unwavering sense of purpose in her uncompromising decision to be the faithful redeemer of the Dutchman."
Leonardo Marques, movimento.com
Elected by the leading electronic music magazine in the country as the best singer of 2019 for her performance as Vanessa at the homonymous opera in Guarulhos. Helene has worked with important names in the European lyrical scene, among which stand out the scene directors Peter Konwitschny, with whom Salome toured Switzerland, Bepi Morassi, in production at the Teatro La Fenice in Venice (where she gave life to the character Rosa in the opera Il Piccolo Spazzacamino de Britten) and Stefano Vizioli, in the São Paulo production of Falstaff made by Theatro São Pedro (as Alice Ford), and the conductors Michael Radulescu of Austria (as soloist in Bach's Kantate 110) and Alessandro Sangiorgi, a staunch Italian in Brazil (with whom Mercedes was in Carmen's production at Teatro Guaíra in Curitiba and Norma in concert at the same theater).

In the years she lived in Italy, she received a scholarship from the Italian government and the Antonio Buzzolla Conservatory due to her master's degree in performance and performed in some of the main stages in the country, such as the Teatro Malibran in Venice, the Teatro Comunale de Rovigo and the Teatro Olimpico in Vicenza.

In Brazil, she was twice invited to share the stage with renowned artists from the lyrical milieu in the Grandes Vozes project, first with the baritone Renato Bruson and then with the mezzo-soprano Graciela Araya, both being a public and critical performance.

She participated twice in the Opera Festival of the Theatro da Paz, as Salomé in the opera of the same name (2012), and as Senta in the opera Der fliegende Holländer (2013), the first Wagnerian opera to be performed in the city. Once again as Senta, she sang at the Palácio das Artes in Belo Horizonte in 2018. At the end of 2013 she was invited to replace, on the same day, soprano Eliane Coelho in the difficult role of Médée de Cherubini in the Municipal Theater of Rio de Janeiro with the OSB under the leadership of Argentine Carlos Vieu. Also noteworthy is her performance in the opera La Voix Humaine, directed by Roberto Alvim, who consecrated her to Brazilian critics for her brilliant performance, in her 3 years of touring, Guarulhos 2015, São Paulo 2016 and Rio de Janeiro 2017, for her performance at Sala Cecília Meirelles was voted one of the best of the year 2017 by Movimento.com. She was the protagonist of several Brazilian premieres, the opera by Monteverdi L'incoronazione di Poppea, at the Rio de Janeiro Planetarium (2014), the opera Vanessa de Barber at the Teatro Adamastor in Guarulhos and the world premiere of Martinelli's Peru de Natal as Maria Luísa at Theatro São Pedro, both in 2019.

Helene also stands out as a soloist in symphonic works: in Brazil, Uruguay and Italy she has sung the "Mass for two soloists, choir and orchestra" by Leandro Alvarenga (composed especially for her), the Schubert's "Messe in G-Dur", Faurè's "Requiem", Vivaldi's "Magnificat" and "Gloria", Jommelli's "Veni Creator Spiritus" (Brazilian premiere), Mendelssohn's "Lobgesang", Mozart's "Vesperae Solennes de Confessore", Mahler's "2. Symphonie "and "4. Symphonie", Ravel's " Scheherazade", Dvorák's "Te Deum", Beethoven's "9. Symphonie", Villa-Lobos's "Floresta do Amazonas" and Berlioz's "La mort de Cléopâtre". Having been featured at the Brasilia Opera Festival 2014 singing Strauss's "Vier letzte Lieder".

She has a master's degree in opera performance from the Antonio Buzzolla Conservatory in Italy, having completed her bachelor degree from FAAM and, in addition, a professional actress graduated from William Shakespeare College. His singing teachers were Heloísa Petri, Carmo Barbosa, António Garófalo, Luisa Giannini (Italy), and Dr. Emilio Pons (NY). In search of perfection, soprano has also participated in several Master Classes with outstanding masters of lyrical singing such as Fiorenza Cossotto, Silvia Sass, Jaime Aragall, Mara Zampieri, Maria Pia Piscitelli, Teresa Berganza, KS Edda Moser, KS Thomas Moser, KS Karan Armstrong , Chuck Hudson, Denis Combe-Chastel, Angelo Raciti, Martin Struckmeyer, Janet Williams, Petra Lang, Carlos Montane and Olga Mykytenko.

She was the winner of the first prize of the Bianca Biancchi Competition in Curitiba (2002), selected in the Audiciones Nuevas Voces Liricas del Teatro Colón of Buenos Aires (2008) and indicated as a promising Wagnerian voice in the Brazilian Auditions of the International Richard Wagner Competition (2009).

português
Eleita pela principal revista eletrônica de música erudita do país como melhor cantora de 2019 pela sua performance como Vanessa na ópera homônima em Guarulhos. Helene já trabalhou com importantes nomes da cena lírica européia, dentre os quais se destacam os diretores de cena Peter Konwitschny, com quem fez Salome em turnê pela Suíça, Bepi Morassi, em produção do Teatro La Fenice em Veneza (onde deu vida a personagem Rosa na ópera Il Piccolo Spazzacamino de Britten) e Stefano Vizioli, na produção paulistana de Falstaff feita pelo Theatro São Pedro (como Alice Ford), e os maestros Michael Radulescu da Áustria (como solista na Kantate 110 de Bach) e Alessandro Sangiorgi, italiano radicado no Brasil (com quem foi Mercedes na produção de Carmen do Teatro Guaíra em Curitiba e Norma em concerto no mesmo teatro).

Nos anos em que morou na Itália, foi bolsista do governo italiano e do Conservatório Antonio Buzzolla em função do seu mestrado em performance e atuou em alguns dos principais palcos do país, como o Teatro Malibran de Veneza, o Teatro Comunale de Rovigo e o Teatro Olímpico de Vicenza.

No Brasil, foi por duas vezes convidada para dividir o palco com artistas consagrados do meio lírico no projeto Grandes Vozes, primeiro com o barítono Renato Bruson e depois com a mezzo-soprano Graciela Araya, sendo ambas as apresentações sucesso de público e crítica.

Participou duas vezes do Festival de Ópera do Theatro da Paz, como Salomé na ópera homônima (2012), e como Senta na ópera Der fliegende Holländer (2013), primeira ópera wagneriana a ser apresentada na cidade. Mais uma vez como Senta, cantou no Palácio das Artes em Belo Horizonte em 2018. No fim de 2013 foi convidada para substituir, no próprio dia, a soprano Eliane Coelho no difícil papel de Médée de Cherubini no Theatro Municipal do Rio de Janeiro com a OSB sob regência do argentino Carlos Vieu. Destaca-se também sua atuação na ópera La Voix Humaine com direção de Roberto Alvim, que a consagrou perante a crítica brasileira pela sua brilhante atuação, em seus 3 anos de turnês, Guarulhos 2015, São Paulo 2016 e Rio de Janeiro 2017, por sua performance na Sala Cecília Meirelles foi eleita como uma das melhores do ano de 2017 pelo movimento.com. Foi a protagonista de diversas estreias brasileira, da ópera de Monteverdi L'incoronazione di Poppea, no Planetário do Rio de Janeiro (2014), da ópera Vanessa de Barber no Teatro Adamastor em Guarulhos e da estreia mundial de O Peru de Natal de Martinelli como Maria Luísa no Theatro São Pedro, ambas em 2019.

Helene também se destaca como solista em obras sinfônicas: no Brasil, no Uruguai e na Itália já cantou a "Missa para duas vozes solistas, coro e orquestra" de Leandro Alvarenga (composta especialmente para ela), a "Messe in G-Dur" de Schubert, o "Requiem" de Faurè, o "Magnificat" e o "Gloria" de Vivaldi, "Veni Creator Spiritus" de Jommelli (estréia brasileira), "Lobgesang" de Mendelssohn, "Vesperae Solennes de Confessore" de Mozart, "2. Sinfonie" de Mahler, "Scheherazade" de Ravel, "Te Deum" de Dvorák e "9. Sinfonie" de Beethoven. Tendo sido destaque no Festival de Ópera de Brasília de 2014 cantando as "Vier letzte Lieder" de Strauss.

Avenida Paulista,171 4º Andar
São Paulo, SP, Brazil
01311-000