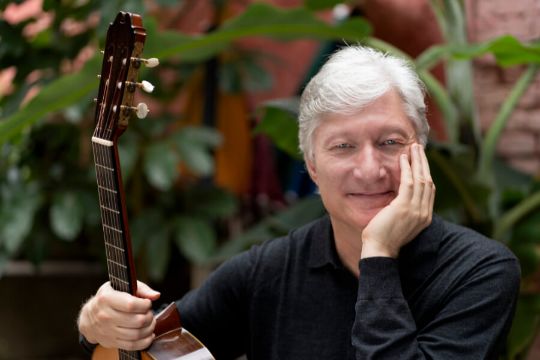 Fabio Zanon

guitarist
"…one of the true stars of the 21st century guitar."
Classical Guitar, UK (Paul Fowles)
Domenico Scarlatti (Musical Heritage)

- download files
bio
Fabio Zanon is one of the most internationally acclaimed Brazilian artists. He is celebrated for interpretations that blend imagination, integrity, and a powerful sound. His activities as a conductor, educator, and promoter of classical music have contributed to placing classical guitar in a broader cultural perspective.

Winner of the most prestigious international guitar competitions, such as the GFA in the USA, Francisco Tárrega in Spain, and Alessandria in Italy, Fabio has performed in over 50 countries, in venues like the Royal Festival Hall in London, Philharmonie in Berlin, Sala Tchaikovsky in Moscow, and Concertgebouw in Amsterdam, and also as guest artist  by leading orchestras like the London Philharmonic, Russian State Orchestra, Berliner Camerata, Israel Chamber Orchestra, and Dublin Radio Symphony Orchestra.

His repertoire includes over 40 guitar concertos, many of which premiered worldwide, and he is dedicated to chamber music with great enthusiasm, exploring a wide variety of combinations and genres.

He is the author of the book "Villa-Lobos" and has conceived and presented programs such as "The Art of the Guitar" and "The Brazilian Guitar" on Radio Cultura in São Paulo, as well as the podcast "Lira."

Fabio is a professor and Fellow at the Royal Academy of Music in London and serves as the artistic and pedagogical coordinator of the Campos do Jordão International Winter Festival.

português
Fabio Zanon é um dos artistas brasileiros de maior prestígio internacional. É aclamado por interpretações que combinam imaginação, integridade e uma poderosa sonoridade. Suas atividades como regente, educador e difusor da música clássica têm contribuído para colocar o violão clássico numa perspectiva cultural mais ampla.

Vencedor dos maiores concursos internacionais de violão, como o GFA nos EUA, o Francisco Tárrega na Espanha e Alessandria na Itália, Fabio já se apresentou em mais de 50 países, em salas como o Royal Festival Hall em Londres, Philharmonie em Berlim, Sala Tchaikovsky em Moscou e Concertgebouw em Amsterdã, junto a orquestras como a Filarmônica de Londres, Orquestra Estatal Russa, Berliner Camerata, Orquestra de Câmara de Israel e Sinfônica da Rádio de Dublin.

Seu repertório inclui mais de 40 concertos para violão e orquestra, muitos dos quais tocados em estreia mundial, e dedica-se com afinco à música de câmara, em uma enorme variedade de combinações e gêneros.

É autor do livro Villa-Lobos. Concebeu e apresentou os programas A Arte do Violão e O Violão Brasileiro, na Rádio Cultura em São Paulo, e o podcast Lira.

Fabio é professor e Fellow da Royal Academy of Music em Londres e coordenador artístico e pedagógico do Festival Internacional de Inverno de Campos do Jordão.

español

Fabio Zanon es uno de los artistas brasileños de mayor prestigio internacional. Es aclamado por interpretaciones que combinan imaginación, integridad y una poderosa sonoridad. Sus actividades como director, educador y difusor de la música clásica han contribuido a situar la guitarra clásica en una perspectiva cultural más amplia.

Ganador de los concursos internacionales de guitarra más importantes, como el GFA en Estados Unidos, el Francisco Tárrega en España y Alessandria en Italia, Fabio ha actuado en más de 50 países, en salas como el Royal Festival Hall en Londres, la Philharmonie en Berlín, la Sala Tchaikovsky en Moscú y el Concertgebouw en Ámsterdam, al frente de orquestas como la Filarmónica de Londres, la Orquesta Estatal Rusa, la Berliner Camerata, la Orquesta de Cámara de Israel y la Sinfónica de la Radio de Dublín.

Su repertorio incluye más de 40 conciertos para guitarra y orquesta, muchos de los cuales se han estrenado mundialmente, y se dedica con pasión a la música de cámara, en una enorme variedad de combinaciones y géneros.

Es autor del libro "Villa-Lobos". Ha concebido y presentado los programas "La Arte de la Guitarra" y "La Guitarra Brasileña" en la Radio Cultura de São Paulo, y el podcast "Lira".

Fabio es profesor y Fellow de la Royal Academy of Music en Londres y coordinador artístico y pedagógico del Festival Internacional de Invierno de Campos do Jordão.

reviews
"There are many good technicians playing the guitar today, but in depth of musicianship none can compare to Fabio Zanon."
Kommersant, St Petersburg

"His projection of subtlety and extremity made the guitar achieve an almost orchestral variety of sound. More remarkable still were his rhythmic discipline and his flair in deploying his battery of effects. (…) Zanon is a fine guitarist; but above all he is a profound musician."
The Irish Times, Dublin

"(…) Zanon is a phenomenal performer. His technique borders on the super-human, and his most distinguishing trait is his consummate musicianship. The purity of tone is warm and seductive. (…) Zanon captured the sheer elegance of the [Scarlatti's] sonata grouping, with every microscopic nuance emoting a fleeting fantasy supported by scholarly study. (...) Zanon is a guitarist's guitarist and a musician's musician."
The Salt Lake Tribune, Salt Lake City

"I do not hesitate to suggest that Fabio Zanon may become one of the most important guitarists of his generation. In his Seattle concert he displayed not only a rare ability on the instrument, but also a learned approach which was neither dry nor pompous. (…) He seems to take all matters into consideration, carefully constructing a partnership with the composer. (…) If there is any question of the continuing progress of Segovia's efforts, Zanon proves that the guitar is very much alive."
Seattle Guitar Society Datebook, Seattle

"He commands a wonderfully mellow tone and his articulation is dazzling. (…) I have heard a good many guitarists in the last few years, but none to rival this wonderful player. Next time he plays at Wigmore he should have queues as far as Selfridge's."
Musical Opinion, UK 

Avenida Paulista,171 4º Andar
São Paulo, SP, Brazil
01311-000