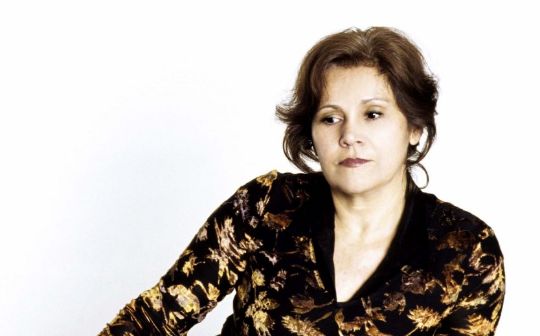 cristina ortiz

pianist
"The ability and grandeur of Ortiz (Rachmaninov's Concerto #1) appear to encapsulate the drama of total virtuosity in a consistently calibrated and highly expressive minimalism."
Giornale del Popolo, Lugano


download files

"Cristina Ortiz is an artist who has evolved from child prodigy to maturity, determined to communicate her intuition, pianistic palette, emotion, and sensitivity to the world," as described by the Viennese newspaper 'Die Presse.' Based in England for many years, it is, however, the qualities inherent to her Brazilian culture - passion, spontaneity, and rhythmic flexibility - that most strongly shine through in her interpretations.

As a soloist with the most famous orchestras - Berlin, Chicago, Cleveland, New York, Prague, Vienna, London - Cristina Ortiz has worked under the baton of Ashkenazy, Chailly, Foster, Jansons, Järvi, Kondrashin, Leinsdorf, Masur, Mehta, Previn, and Zinman, among others. As a chamber musician, she has performed alongside artists such as Antonio Meneses, Uto Ughi, Emanuel Pahud, Lynn Harrell, and the Prague Wind Quintet.

Possessing a vast and eclectic repertoire, whether in concerts or recordings, her commitment to Brazilian music is evident in the acclaimed 'premiere' of Guarnieri's "Chôro" at Carnegie Hall in New York or in the five Concertos by Villa-Lobos recorded for Decca. Cristina Ortiz continues her search for musical rarities through the works of Clara Schumann, Mompou, Stenhammar, Schulhoff, as well as Brazilian composers L. Fernandez and F. Vianna. Workshops and masterclasses have become more frequent, where she, in an engaging style, openly shares her musical experience with young pianists worldwide. She declares, "Teaching is also learning!"

In recent years, she has added the role of soloist/conductor to her musical repertoire, conducting Mendelssohn, for example, at the Musikverein in Vienna with the Prague Chamber Orchestra, or Mozart with the Consort of London, in a recording for Collins Classics. This opens up an infinite source for her insatiable appetite for repertoire, and beyond Mozart, Haydn, or Mendelssohn Concertos, Cristina Ortiz now sets her sights on the works of De Falla and Ravel."

português
"Cristina Ortiz é uma artista que evoluiu de menina-prodígio à maturidade, determinada a comunicar ao mundo sua intuição, palette pianística, emoção e sensibilidade", nos dizeres do jornal vienense 'Die Presse'. Radicada na Inglaterra há muitos anos, são porém os dotes inerentes à sua cultura brasileira - paixão, espontaneidade e flexibilidade rítmica - os que mais fortemente transparecem em suas interpretações.

Solista com as mais famosas orquestras - Berlim, Chicago, Cleveland, New York, Praga, Viena, Londres - Cristina Ortiz já trabalhou sob a batuta de Ashkenazy, Chailly, Foster, Jansons, Järvi, Kondrashin, Leinsdorf, Masur, Mehta, Previn e Zinman, entre outros. Em tanto que camerista, tem se apresentado ao lado de artistas como Antonio Meneses, Uto Ughi, Emanuel Pahud, Lynn Harrell, ou o Quinteto de Sopro de Praga.

Possuidora de vasto e eclético repertório, quer em concertos ou gravações, seu compromisso com a música brasileira é evidente na aclamada 'prémière' do "Chôro" de Guarnieri no Carnegie Hall de New York ou nos 5 Concertos de Villa-Lobos, gravados para Decca. Cristina Ortiz continua sua procura por raridades musicais, através das obras de Clara Schumann, Mompou, Stenhammar, Schulhoff ou dos brasileiros L. Fernandez e F. Vianna. Sempre mais assíduos tornam-se os workshops e masterclasses, onde ela, num estilo desenvolto, comunica sem reservas toda sua experiência musical a jovens pianistas, mundo a fora. "Ensinar, é também aprender!", declara.

Nos últimos anos acrescentou à sua bagagem musical o papel de solista/regente: em Mendelssohn, no Musikverein de Viena, por exemplo, com a Orquestra de Câmara de Praga, ou em Mozart, com o Consort of London, em gravação para Collins Classics. Abre-se assim, infinita fonte à sua insaciável sede por repertório, e além dos Concertos de Mozart, Haydn ou Mendelssohn, Cristina Ortiz agora visa as obras de De Falla e Ravel."

español
"Cristina Ortiz es una artista que ha evolucionado desde ser una niña prodigio hasta la madurez, determinada a comunicar al mundo su intuición, paleta pianística, emoción y sensibilidad", como lo describe el periódico vienés 'Die Presse'. Aunque ha estado radicada en Inglaterra durante muchos años, son las cualidades inherentes a su cultura brasileña, como la pasión, la espontaneidad y la flexibilidad rítmica, las que se destacan con mayor fuerza en sus interpretaciones.

Como solista con las orquestas más famosas, como Berlín, Chicago, Cleveland, Nueva York, Praga, Viena y Londres, Cristina Ortiz ha trabajado bajo la batuta de directores como Ashkenazy, Chailly, Foster, Jansons, Järvi, Kondrashin, Leinsdorf, Masur, Mehta, Previn y Zinman, entre otros. Como músico de cámara, ha actuado junto a artistas como Antonio Meneses, Uto Ughi, Emanuel Pahud, Lynn Harrell y el Quinteto de Viento de Praga.

Con un repertorio vasto y ecléctico, ya sea en conciertos o grabaciones, su compromiso con la música brasileña es evidente en la aclamada 'premiere' del "Chôro" de Guarnieri en el Carnegie Hall de Nueva York o en los cinco conciertos de Villa-Lobos grabados para Decca. Cristina Ortiz continúa buscando rarezas musicales a través de las obras de compositores como Clara Schumann, Mompou, Stenhammar, Schulhoff, así como los brasileños L. Fernandez y F. Vianna. Los talleres y clases magistrales se han vuelto más frecuentes, donde comparte abiertamente su experiencia musical con jóvenes pianistas de todo el mundo. Ella declara: ¡"Enseñar también es aprender!".

En los últimos años, ha añadido el papel de solista/conductora a su repertorio musical, dirigiendo, por ejemplo, Mendelssohn en el Musikverein de Viena con la Orquesta de Cámara de Praga, o Mozart con el Consort of London en una grabación para Collins Classics. Esto abre una fuente infinita para su insaciable apetito por el repertorio y, además de los conciertos de Mozart, Haydn o Mendelssohn, Cristina Ortiz ahora apunta a las obras de De Falla y Ravel."
Avenida Paulista,171 4º Andar
São Paulo, SP, Brazil
01311-000