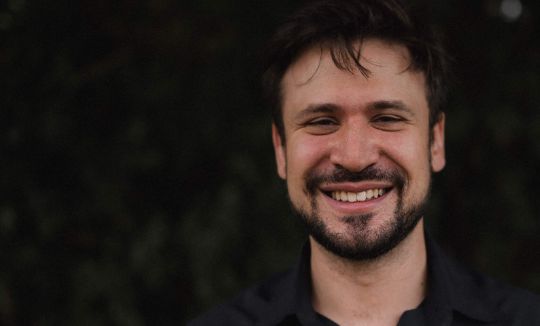 Cristian Budu

pianist
"Budu performed two of Guarneri's extraordinary 'Ponteios' in a way that leaves you in awe of such mastery of sound and discourse. This immense pianist's place is undoubtedly in the pantheon of Brazilian musicians and thus the world."
Alain Lompech, 2022, Bachtrack
La Roque d'Anthéron Festival

download files
Brazilian of Romanian origin, Cristian Budu has been establishing himself as a new reference in the piano world. He won the renowned Clara Haskil International Competition (Grand Prize + 2 extra awards, including the Audience Award), the most significant achievement of a Brazilian pianist in the last 30 years.

He has received the APCA Award Instrumentalist of the Year 2017 and the Guia da Folha Award Best Concert of the Year 2016.

In the British magazine Gramophone, a major international critical reference, Cristian was included in the 2017 update of two ultra-selective lists: "Top 10 Recent Beethoven Recordings," alongside artists like Harnoncourt, Bavouzet, Goerner, and Stefan Vladar; and "Top 10 Chopin Recordings," which includes recordings by Martha Argerich, Arthur Rubinstein, Maria João Pires, Dinu Lipatti, and Murray Perahia. In 2019, Gramophone included his interpretation of the 24 Preludes in the historical list of "Top 50 Greatest Chopin Recordings," representing Brazilian piano alongside Nelson Freire's recording of the Nocturnes.

His debut solo CD received the "Editor's Choice" in England and "5-Diapasons" in France. Cristian also recorded Tchaikovsky's 1st Concerto with OJESP and released a CD with cellist Antonio Meneses. His recent schedule includes duos with Renaud Capuçon, a duo with Antonio Meneses and chamber music with musicians from the Berlin Philharmonic Orchestra.

Cristian has performed with the Lucerne Symphony Orchestra, Orquestre de la Suisse Romande, Stuttgart Radio Symphony Orchestra, Emil Nichifor Orchestra, NEC Philharmonic Orchestra, OSESP, Montevideo Philharmonic Orchestra, Brazilian Symphony Orchestra, Mendoza Philharmonic Orchestra, Minas Gerais Philharmonic Orchestra, among many others. He has performed as a soloist in venues like the KKL Lucerne, Ateneu Bucharest, LAC Lugano, Liederhalle Stuttgart, Jordan Hall Boston, Sala São Paulo.

He has also performed and taught at festivals and series such as  Verbier Festival, La Roque d'Anthéron Festival, "Les Grands Interprètes" in Geneva, "Klavierissimo" in Zurich, "Piano aux Jacobins" (France), Rockport Music Festival (USA), Zermatt Festival (Switzerland), Delft Chamber Music Festival (Netherlands), Frankische Musiktage - 'Rising Stars' series (Germany), Monterrey International Piano Festival (Mexico), Vermelhos Festival, Campos do Jordão International Piano Festival, Lugano Musica and Gstaad Mehuhin Festival.

Cristian graduated from the University of Sao Paulo, where he had as professor the pianist Eduardo Monteiro. In the United States he became Master in Pianistic Performance with Wha´Kyung Byun, being granted a special scholarship from the New England Conservatory in Boston.

While in the USA, Cristian hosted recitals and special events that inspired the creation of Groupmuse, a project that gained the partnership of the Boston Symphony Orchestra and became one of the most innovative platforms for classical music in the world.

In Brazil, Cristian is the creator of the Pianosofia project, which is supported by the Sociedade Cultura Artística, with the aim of "awakening" and reviving the pianos in people's homes, promoting local musicians and chamber music. 

português
Brasileiro filho de romenos, Cristian Budu tem se firmado como uma nova referência no mundo pianístico. Venceu o renomado Concurso Internacional Clara Haskil (Grande Prêmio + 2 prêmios extras, incluindo o prêmio do público), mais importante conquista de um pianista brasileiro nos últimos 30 anos, e também ganhou prêmios como Instrumentista do Ano (2017) da APCA e Melhor Concerto do Ano (2016) no Guia da Folha.

Na revista britânica Gramophone, maior referência da crítica internacional, Cristian entrou no update 2017 de 2 listas ultra-seletas: "Top 10 Recent Beethoven Recordings", ao lado de artistas como Harnoncourt, Bavouzet, Goerner e Stefan Vladar; e "Top 10 Chopin Recordings", que inclui gravações de Martha Argerich, Arthur Rubinstein, Maria João Pires, Dinu Lipatti e Murray Perahia. Em 2019, a Gramophone inseriu sua interpretação dos 24 Prelúdios na lista histórica das "Top 50 Greatest Chopin Recordings", representando o piano brasileiro juntamente com a gravação dos Noturnos por Nelson Freire.

Seu primeiro CD solo ganhou o "Editor's Choice" na Inglaterra e "5-Diapasons" na França. Cristian também gravou o 1º Concerto de Tchaikovsky com a OJESP e Cláudio Cruz e um CD com o violoncelista Antonio Meneses. Sua agenda recente inclue duos com Renaud Capuçon, com Antonio Meneses e música de câmara com músicos da Orquestra Filarmônica de Berlin.

Cristian já se apresentou com a Orquestra Sinfônica de Lucerna, Orquestre de la Suisse Romande, Orquestra Sinfônica da Rádio de Stuttgart, Emil Nichifor Orchestra, NEC Philarmonic Orchestra, OSESP, Orquestra Filarmônica de Montevideo, OSB, Orquestra Filarmônica de Mendoza, Orquestra Filarmônica de Minas Gerais, entre tantas outras. Apresentou-se como solista em salas como KKL de Lucerna, Ateneu de Bucareste, LAC de Lugano, Liederhalle, Jordan Hall, Sala São Paulo.
Já solou e lecionou em festivais e séries como Verbier Festival, La Roque d'Anthéron Festival, "Les Grands Interprètes" de Genebra, "Klavierissimo" de Zurique, "Piano aux Jacobins" (França), Rockport Music Festival (EUA), Zermatt Festival (Suiça), Delft Chamber Music Festival (Holanda), Frankische Musiktage - série 'Rising Stars' (Alemanha), Festival Internacional de Piano de Monterrey (Mexico), Festival Internacional de Campos do Jordão.

Cristian cresceu em Diadema (SP) e em seus anos de adolescência foi aluno do Instituto Brincante onde conheceu o multi-artista Antônio Nóbrega, com quem também colaborou em vários trabalhos. Em Boston, Cristian integrou um quarteto especializado em Chôro que venceu o Honors Competition do New England Conservatory.
Cristian formou-se na Universidade de São Paulo, onde teve como professor o pianista Eduardo Monteiro. Nos Estados Unidos, ele obteve o título de Mestre em Performance de Piano com Wha'Kyung Byun, recebendo uma bolsa de estudos especial do New England Conservatory em Boston.

Ainda nos EUA, Cristian hospedou saraus e eventos especiais que inspiraram a criação do Groupmuse, projeto que ganhou a parceria da Boston Symphony Orchestra e se tornou uma das maiores plataformas inovadoras da música clássica no mundo.

No Brasil, Cristian é criador do projeto Pianosofia, que tem apoio da Sociedade Cultura Artística, no intuito de "acordar" e recuperar os pianos que existem nas casas das pessoas, promovendo músicos locais e a música de câmara. 

español
Brasileño de origen rumano, Cristian Budu es como una nueva referencia en el mundo del piano. Ganó el renombrado Concurso Internacional Clara Haskil (Gran Premio + 2 premios adicionales, incluido el Premio del Público), el logro más significativo de un pianista brasileño en los últimos 30 años.

Recientemente, ha recibido premios como Instrumentista del Año (2017) de APCA y Mejor Concierto del Año (2016) en Guia da Folha.

En la revista británica Gramophone, una importante referencia crítica internacional, Cristian fue incluido en la actualización de 2017 de dos listas ultra selectivas: "Top 10 Recent Beethoven Recordings", junto a artistas como Harnoncourt, Bavouzet, Goerner y Stefan Vladar; y "Top 10 Chopin Recordings", que incluye grabaciones de Martha Argerich, Arthur Rubinstein, Maria João Pires, Dinu Lipatti y Murray Perahia. En 2019, Gramophone incluyó su interpretación de los 24 Preludios en la lista histórica de las "Top 50 Greatest Chopin Recordings", representando el piano brasileño junto a la grabación de los Nocturnos de Nelson Freire.

Su primer CD recibió el "Editor's Choice" en Inglaterra y "5-Diapasons" en Francia. Cristian también gravó el Primer Concierto de Tchaikovsky con la OJESP y lanzó un CD con el violonchelista Antonio Meneses. Su agenda reciente incluye dúos con Renaud Capuçon y con Antonio Meneses y música de cámara con músicos de la Orquesta Filarmónica de Berlín.

Cristian ha actuado con la Orquesta Sinfónica de Lucerna, la Orquesta de la Suisse Romande, la Orquesta Sinfónica de Radio Stuttgart, la Orquesta Emil Nichifor, la Orquesta Filarmónica NEC, la OSESP, la Orquesta Filarmónica de Montevideo, la Orquesta Sinfónica Brasileña, la Orquesta Filarmónica de Mendoza, la Orquesta Filarmónica de Minas Gerais, entre muchas otras. Ha actuado como solista en lugares como el KKL Lucerna, el Ateneo de Bucarest, el LAC de Lugano, la Liederhalle de Stuttgart, el Jordan Hall de Boston y la Sala São Paulo.

También ha actuado y enseñado en festivales y series como Verbier Festival, La Roque d'Anthéron Festival, Festival "Les Grands Interprètes" en Ginebra, "Klavierissimo" en Zúrich, "Piano aux Jacobins" (Francia), el Festival de Música Rockport (EE. UU.), el Festival de Zermatt (Suiza), el Festival de Música de Cámara de Delft (Países Bajos), Frankische Musiktage - serie "Rising Stars" (Alemania), Festival Internacional de Piano de Monterrey (México), Festival Internacional de Campos do Jordão, Festival Vermelhos, Festival de Lugano y Festival de Gstaad Mehuhin.

Cristian se graduó en la Universidad de São Paulo, donde tuvo como profesor al pianista Eduardo Monteiro. En Estados Unidos, obtuvo el título de Maestro en Interpretación Pianística con Wha'Kyung Byun, obteniendo una beca especial del Conservatorio de Nueva Inglaterra en Boston.

Mientras estaba en Estados Unidos, Cristian organizó recitales y eventos especiales que inspiraron la creación de Groupmuse, un proyecto que obtuvo la colaboración de la Orquesta Sinfónica de Boston y se convirtió en una de las plataformas más innovadoras para la música clásica en el mundo.
En Brasil, Cristian es el creador del proyecto Pianosofia, que cuenta con el apoyo de la Sociedade Cultura Artística, con el objetivo de "despertar" y revitalizar los pianos en los hogares de las personas, promoviendo a músicos locales y la música de cámara. 
reviews
5 Diapason - CD Claves debut
Diapason Magazine: 5 Diapason pour Cristian Budu - Chopin et Beethoven

Le Brésilien Cristian Budu – Prix Clara Haskil 2013 – réunit les Préludes de Chopin, décidément très enregistrés ces temps-ci, et les Bagatelles op. 33 de Beethoven. Il a choisi un Steinway somptueux réglé par Jean Baumat, et splendidement capté à la Chaux-de-Fonds par les micros de Johannes Kammann. Si splendidement que l'ombre du piano de Claudio Arrau, souvent enregistré dans cette salle suisse, semble passer sur le disque.Ce son plein, dense, dru parfois, lumineux sans brillance, rayonnant jusque dans le pianissimo est un bonheur en soi. Très attentif à l'enchaînement des vingt-quatre préludes, Budu ne cherche pas à les unifier en créant une grande arche.

Il est dans chacun d'eux, oublieux du précédent, comme s'il regardait à travers un kaléidoscope, fixant son – et notre – attention sur ce qui naît sous ses doigts à mesure que la musique avance. Le jeu est parfaitement dominé. Des accents virils très brefs rappellent que Chopin recourait à la plus grande puissance de façon instantanée, mais l'interprétation du jeune Brésilien est surtout fondée sur un cantabile sculpté dans le clavier, sans une once de complaisance ou d'affectation. Interprétation à vrai dire neuve en ce qu'elle n'évoque aucun des pianistes qui s'y sont collés jusque-là avec succès : une vision assez idéalisée, intériorisée, d'un tragique libéré des grimaces de la souffrance.Les Bagatelles op. 33 de Beethoven ont ceci en commun avec l'Opus 28 de Chopin qu'elles sont aphoristiques, tours de lanterne magique qui font apparaître et disparaître les ombres en un tournemain. Cristian Budu y musarde avec humour et tendresse, s'y amuse comme un chat avec une pelote, prend son temps et écoute avec attention les changements d'humeur qui nous surprennent car il sait faire comme s'ils le surprenaient lui-même.
Alain Lompech
Frédéric Chopin(1810-1849) Préludes op. 28.Beethoven : Bagatelles op. 33
Cristian Budu (piano)Claves. © 2015.
TT : 59'
Technique : 4.5/5
Source de l'article: Diapason Magazine, N° 648 – été 2016

Gramophone - CD Claves debut

Listening to his impressive new recording, it's easy to understand why Cristian Budu won the Clara Haskil Competition in Vevey three years ago this September. A Brazilian of Romanian descent who studied at the University of São Paulo and the New England Conservatory, Budu is a stunningly original pianist with musical insight and maturity that could inspire envy in colleagues twice his age. He has the sort of hands that used to be called 'velvet paws', which are seemingly incapable of making an ugly sound at the instrument.

Online videos show him to be strictly business. No demonstrations of how almost to fall off the bench, no stomping the floor, no challenging Lon Chaney for the title 'Man of a Thousand Faces'. Completely relaxed but with an almost scary intensity of focus, Budu's every motion is directed towards the production of sound. All this comes through loud and clear via the strictly audio medium of the CD, captured with remarkable nuance by the Claves engineers.For his debut recording, Budu chooses an entire disc of miniatures. He is able to focus attention on the tiniest details while leaving proportions perfectly intact. Eloquent phrasing is ever front and centre, and no expressive potential is left unexplored. He commands an immense colour palette and moves from a robust fortissimo to a scarcely audible pianissimo in a nanosecond.It's a credit to the subtlety of Budu's musicianship to say that his Op 33 Beethoven Bagatelles could easily be transferred to an 1804 Streicher with barely an adjustment of the touch he uses on the modern Steinway. Scrupulously observant of the composer's agogic indications, the abundant drolleries of these pieces are understated and all the wittier for it. My favourite is the C major (No 5), which scurries about with amazingly precise urgency. When all the coruscating bustle finally runs up against a solid wall, Budu resists violent assault, the default choice of most pianists. Instead, he recovers from his bewilderment and, to great comic effect, seems to fashion a door, and calmly walk through.Were his Chopin Preludes not so delicately coloured, their visual equivalent might be leafing through a portfolio of Ingres's finest graphite portraits, marvelling at their succinct precision and lifelike directness. At once their striking individuality embraces a sweep and cohesion that leave the impression that the entire set could have been captured in a single take. The A minor (No 2) demonstrates Budu's ability to create a heart-gripping pianissimo, whispered and just barely audible. In the G major (No 3), the right hand floats spacious and serene over the bubbling cascade of left-hand figuration. The A major (No 7) is a genuine Mazurka in microcosm, while the tolling bells of the E major (No 9) seem to grow and grow without ever exceeding the bounds of an exquisitely beautiful sound. When things grow desperate, depicting fight or flight, as in Nos 12, 16, 18 or 22, the dramatic tension is breathtaking.Recently it seems as if the tap were left running and we're suddenly knee-deep in Chopin Preludes. Of those I've heard, including the sets by Goerner, Cho, Yundi and Sokolov, Budu's are the most enduringly satisfying. Bolstered by a vital and intelligent Beethoven, they strongly suggest that Cristian Budu is an artist we'll be eager to hear more of – the sooner the better.
Patrick Rucker
Gramophone


Competition Clara Haskil - semifinal
Lors du deuxième soir des demi-finales du Concours Clara Haskil, le brésilien Cristian Budu, accompagné par des membres du Quatuor Hugo Wolf, présentait le Quatuor pour piano et cordes No.3 en ut mineur Op. 60 de Johannes Brahms. Esquissée lorsque le compositeur avait à peine plus de vingt ans puis reprise bien plus tard, cette œuvre massive à caractère orchestral ne semblait a priori pas taillée pour le pianiste brésilien. En effet, lors des quarts de finale, il avait surtout convaincu dans des pièces au lyrisme léger comme la sonate en ré mineur K.213 de Domenico Scarlatti dont il présentait une magnifique interprétation, pleine de douceur et de finesse.
Après un repositionnement des musiciens demandé par Budu afin de pouvoir entretenir un contact visuel avec chacun d'eux, le début de l'œuvre est somptueux. Dès les premières mesures – des accords plaqués forte entrecoupés de lignes plaintives des cordes – on sent Budu très à l'écoute. Il attaque ses accords avec un son très plein et la façon dont il s'efface ensuite ouvre un espace que les cordes peuvent investir. C'est sur ce mode que semblent fonctionner les interprètes de ce soir : le piano crée l'espace qu'occupent ensuite les cordes.
Cristian Budu mène le jeu avec énergie, il donne le ton. Avec lui, rien ne s'immobilise jamais. Cela tient sans doute à deux paramètres : le premier est son ressenti très particulier du temps. Il ne presse jamais le tempo et rattrape chacune de ses accélérations. Cela met la musique en mouvement sans provoquer de sentiment d'instabilité. Le second est que, lorsqu'il les joue, les mélodies ont du sens. Elles semblent évoluer et ne se limitent jamais à n'être qu'un enchaînement de notes. Elles ont une direction, partent du silence pour y revenir. C'est là une des particularités les plus prenantes de Cristian Budu : une attention exceptionnelle portée à l'émergence et à l'effacement des sons.
Un autre aspect du jeu de Budu est sa générosité. Une générosité sur deux plans contradictoires en équilibre instable : Cristian Budu donne énormément d'énergie, on ne sent jamais de force contenue chez lui, le courant passe d'une façon très directe. Mais cela ne se fait jamais au détriment de la place qui revient au trio. Au contraire, il insuffle son énergie aux cordes qui, fortes de cet élan expressif, peuvent alors se déployer. Cet équilibre fragile s'est quelque peu brisé dans le quatrième mouvement, au détriment du silence, pour livrer un finale dense et peu nuancé.
Mais le pianiste brésilien n'oublie jamais ce qui fait sa particularité : son retour au silence. Chaque fin de mouvement est un événement. Il sait marier les attaques du piano aux attaques des cordes et le son du quatuor entier disparaît comme celui d'un seul instrument. Le grand art de Cristian Budu n'est pas d'éblouir par une technique et par des gestes brillants, mais de faire émerger la musique du silence comme une nécessité, puis d'y retourner avec la même certitude.
Sassoun Arapian
http://www.clara-haskil.ch/?p=1631&lang=fr
Wagner
"The interpretation was subtle and marvelous, brought off in complete, glistening comfort."
Recital at Rockport Chamber Music Festival
Joseph E. Morgan
The Boston Musical Intelligencer


Grieg - Montevideo
Ejecución brillante, momento mágico
JULIO CÉSAR HUERTAS
EL PAÍS, Montevideo
21 jul 2015
Hoy a 66 años de este acontecimiento, la Filarmónica conducida por el maestro Dante Anzolini coterráneo de Castro, desempolva esta bellísima obra injustamente olvidada. Como lo expresó el autor no es descriptiva y su intención fue adaptar la modalidad de nuestra música a las formas musicales del preludio y el scherzo. Anzolini demostró su capacidad para interpretar a uno de nuestros principales compositores del nacionalismo con oficio y claridad de realización, logrando una ejecución tan meritoria como agradable.En el programa de sala se decía sobre Cluzeau Mortet que solamente se habían realizado dos trabajos sobre este compositor: la tesis de musicología de la licenciada Susana Salgado publicada en 1983 y la monografía aún sin publicar de la licenciada Graciela Carreño sobre los seis cantos sobre versos de Cruz y Éxtasis de la Pasión de Esther de Cáceres. Esa información omite el pequeño estudio de Felicia Mari de 1958 editado por el sello Arca, los tres trabajos realizados entre 1978 y 1979 de la licenciada Yolanda Pérez Eccher primera egresada de las licenciaturas de musicología y piano del Conservatorio Nacional (hoy, la Escuela Universitaria de Música) y la monografía del crítico Roberto Lagarmilla de 1992 que integra el primer tomo de "Músicos de Aquí" editado por el Cemau.Luego se escuchó el Concierto para piano y orquesta de Grieg teniendo como solista a Cristian Budu. El primer premio del Concurso Internacional Clara Haskil que obtuviera la pianista uruguaya Dinorah Varsi en 1967 lo obtuvo en 2013 este pianista paulista. La versión de Budu confirmó lo merecido de este premio dada la hermosa sonoridad que extrajo del instrumento, su musicalidad admirable y por los excelentes medios técnicos que posee. Como si esto fuera poco tiene un fraseo perfecto ,su digitación es de gran escuela y su manejo de los pedales es excelente. El público ovacionó al artista que ofreció como bis el hermoso "Preludio opus 28 nº 8 de Chopin. Para cerrar esta magnífica velada se interpretó la "Cuarta Sinfonía" de Mahler con la participación especial en el cuarto movimiento de la soprano japonesa Eiko Senda. Anzolini reafirmó sus virtudes innatas de director, consiguiendo de la Filarmónica una riqueza de matices y una profundidad expresiva que tuvo su momento más luminoso en el "Poco adagio" del tercer movimiento. Finalizando esta sinfonía Mahler nos introduce en un paraíso muy singular y que mejor que acompañados de la hermosa voz de Eiko Senda que nos tiene acostumbrados que cada actuación suya sea superior a la anterior. Su versión se puede calificar de memorable e irrepetible.El público quedó tan cautivado por este final que los aplausos dejaron lugar a un prolongado silencio como si estos cortaran la sublime atmósfera paradisíaca a la que nos transportaron. Fue un momento mágico.
Orquesta Filarmónica de Montevideo.
Director: Dante Anzolini.
Solistas: Cristian Budu (piano) y Eiko Senda (soprano).
Programa: Preludio y Scherzo Criollo de Luis Cluzeau Mortet, Concierto para piano y orquesta op.16 de Edvard Grieg y Sinfonía nº 4 de Gustav Mahler.
Teatro Solís, 14 de julio. 
Avenida Paulista,171 4º Andar
São Paulo, SP, Brazil
01311-000