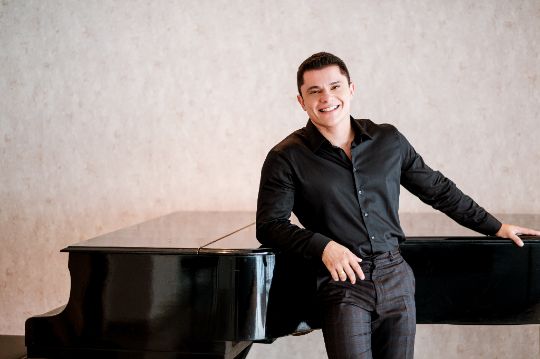 Aleyson Scopel

pianist
"Brilliant technique and a touch full of character and individuality."
Bryce Morrison

"Aleyson proves to be an exceptional performer with his refined musical sensitivity and versatility, as well as standing out for his brilliant mastery of the instrument and the vigor of his communication with the audience."
Nelson Freire

"Aleyson is undoubtedly one of the most brilliant pianists of his generation."
Edino Krieger

A prominent presence in the Brazilian music scene, pianist Aleyson Scopel regularly performs as a soloist with the country's leading orchestras, including OSESP, Minas Gerais Philharmonic, Brazilian Symphony Orchestra (OSB), Porto Alegre Symphony and Amazonas Philharmonic.

His previous performances have taken place in important venues in both Brazil and abroad, such as Carnegie (Weill) Hall (New York), Jordan Hall (Boston), Steinway Hall (London), Palau de la Música Catalana (Barcelona), Athens Conservatory (Greece), São Paulo, Minas Gerais, and Cecília Meireles Concert Halls, Teatro Amazonas, and the Municipal Theaters of São Paulo and Rio de Janeiro.

Recipient of the Nelson Freire and Magda Tagliaferro awards, he has been honored in various international competitions, including the William Kapell and Villa-Lobos, among others.

He recorded, on the Grand Piano label by Naxos, the complete "Cartas Celestes" by Brazilian composer Almeida Prado in four albums, with the last one being chosen as CD of the year by the Concerto Magazine jury. In 2022, he released his latest recording project, this time dedicated to the complete collection of his Nocturnes.

Aleyson Scopel graduated with the highest distinction from the New England Conservatory of Music in Boston. In Brazil, he was mentored by Celia Ottoni and Myrian Dauelsberg.

português
Presença de destaque no cenário musical brasileiro, o pianista Aleyson Scopel toca regularmente como solista à frente das principais orquestras do país, como a OSESP, Filarmônica de Minas Gerais, Orquestra Sinfônica Brasileira (OSB), Sinfônica de Porto Alegre, Amazonas Filarmônica.

Suas apresentações anteriores incluem importantes espaços no Brasil e exterior, tais como Carnegie (Weill) Hall (Nova Iorque), Jordan Hall (Boston), Steinway Hall (Londres), Palau de la música catalana (Barcelona), Conservatório de Atenas (Grécia), Salas São Paulo, Minas Gerais e Cecília Meireles, Teatro Amazonas e os municipais de São Paulo e Rio de Janeiro.

Detentor dos prêmios Nelson Freire e Magda Tagliaferro, foi laureado em diversos concursos internacionais, tais como William Kapell e Villa-Lobos, entre outros.

Gravou para o selo Grand Piano, da Naxos, a integral das Cartas Celestes do compositor brasileiro Almeida Prado em quatro álbuns, o último eleito CD do ano pelo júri da Revista Concerto. Em 2022 lançou seu último trabalho fonográfico, dessa vez dedicado à integral dos seus Noturnos.

Formou-se com a mais alta distinção no New England Conservatory of Music, em Boston. No Brasil, foi orientado por Celia Ottoni e Myrian Dauelsberg.

español

Una destacada presencia en la escena musical brasileña, el pianista Aleyson Scopel actúa regularmente como solista junto a las principales orquestas del país, como OSESP, la Filarmónica de Minas Gerais, la Orquesta Sinfónica Brasileña (OSB), la Sinfónica de Porto Alegre y la Filarmónica de Amazonas.

Sus actuaciones anteriores han tenido lugar en importantes espacios tanto en Brasil como en el extranjero, como el Carnegie (Weill) Hall en Nueva York, Jordan Hall en Boston, Steinway Hall en Londres, el Palau de la Música Catalana en Barcelona, el Conservatorio de Atenas en Grecia, las Salas São Paulo, Minas Gerais y Cecília Meireles, el Teatro Amazonas y los Teatros Municipales de São Paulo y Río de Janeiro.

Galardonado con los premios Nelson Freire y Magda Tagliaferro, ha sido distinguido en varios concursos internacionales, incluyendo el William Kapell y Villa-Lobos, entre otros.

Grabó, en el sello Grand Piano de Naxos, la integral de las "Cartas Celestes" del compositor brasileño Almeida Prado en cuatro álbumes, siendo el último elegido como CD del año por el jurado de la Revista Concerto. En 2022, lanzó su último proyecto de grabación, esta vez dedicado a la integral de sus Nocturnos.

Aleyson Scopel se graduó con la máxima distinción en el New England Conservatory of Music en Boston. En Brasil, fue orientado por Celia Ottoni y Myrian Dauelsberg.
Avenida Paulista,171 4º Andar
São Paulo, SP, Brazil
01311-000